Meet the Team
Aislinn Brown
Each month we sit down with a longtime Geister. This month we chat with Aislinn, master of the taps and lover of all things true crime.
What is your spirit animal?
A classic little barnyard chicken. Busy, kind of loud and cute from certain angles. I actually have a chicken tattoo.
What's your job here?
Taproom Assistant General Manager is technically my full title. It's a mouthful. *laughs*
And how long have you been at the Geist?
Three years.
How'd you end up here?
I worked for another brewery in town and when my time there had kind of run its course, I wanted to stay in the industry. I was friends with a few Geisters at that point, so it just seemed like a natural place to try and fit in. Fortunately, I did!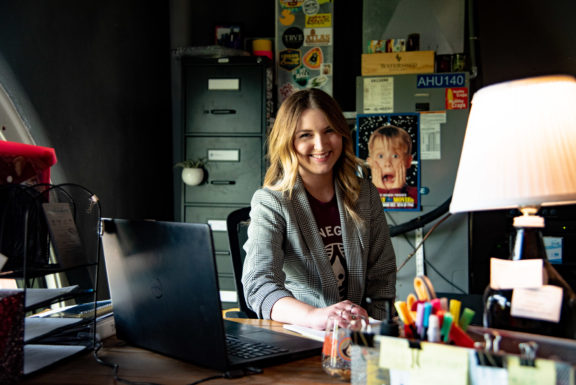 Day to day, what goes into your job?
Just maintaining the flow of the taproom, getting each shift set up with what they need. There's a lot of behind the scenes work that goes into things here like at any bar, but in a brewery taproom in particular, it's a little bit more nuanced and specialized. There's a lot of troubleshooting to do, a lot of fires to put out, and we handle all that stuff on the backend so that our front of house staff can be successful.
Our bar staff tends to go the extra mile, whether it's draft line cleaning or beer education. How do you stay on top of that work?
Yeah, we definitely make a lot of big asks of our staff up front. I think that's part of why Rhinegeist offers such wonderful perks and benefits, because we do make a lot of asks up front of our employees, in every department. For us, equipment maintenance is huge. Having our equipment working properly allows us to serve the beer in a way that honors it.
From an education standpoint, we put our staff through not only some initial training, but the education program is ongoing.  Every month there's a different themed class that ties into our current releases to keep our staff educated, not just about Rhinegeist offerings but about beer in general and what's trending in the market. That's been really helpful for us. For example, this past month, the theme was on nitro cans and how that technology works and the science behind it. That ties into our Cobbstopper release so our team can knowledgeably talk about that.
What'd you have for breakfast? Did you have breakfast?
I did not. I had a five hour energy, the passion fruit flavor, and a glass of water.
Do you have a favorite Rhinegeist beer?
Ooh, that's tough. Peach Dodo is probably my all time favorite. It just fits with everything; it's food friendly, it's full flavored, but it's not overwhelming or unapproachable. I'm not a huge fan of hoppy beers, but I still like something with a nice like fun, complex flavor and Peach Dodo fits the bill for me.
If you were a Rhinegeist beer, what would you be?
Maybe Mushhushshu? I think Mushhushshu is fun and funky and kind of a little bit of a patchwork of some different things. I'm all about that.
Do you have a favorite thing about working here?
I think my favorite thing about working here is probably the sense of community that we develop. It's very organic. We have a huge focus on culture, obviously, and a lot of times, especially this time of year when the rooftop is open and there's a lot of excitement and activity in the taproom, it feels very much like being at summer camp. All of your friends are here and we're all having a good time, working together towards some common goals. It just feels really exciting.
What's the best part of your personality?
I pride myself on my sense of humor. I think I'm a pretty funny person.
If your friends had to use three words that describe you, what would they be?
Eccentric, anxious, dry. Like David Sedaris in a blonde wig.
Do you have a go-to Cincinnati food recommendation?
The 13th Street Alley Philly window. It's not a full-service restaurant, just a walk-up window but they make a seriously good Philly Cheesesteak. Nothing fancy, just classic and well executed.
Outside of the brewery, what are you up to?
When I'm not working, I like to hang out with my cats and watch true crime documentaries. I'm also always trying other breweries and other new restaurants. We're so fortunate to be in a cultural boom right now in Cincinnati; there's always something new to try.
Do you have a favorite dish to cook?
I actually don't; I married a former chef, so fortunately for me there's not much of a need to cook. My husband [Mike] actually also works for Rhinegeist now in a maintenance and carpentry position. When he's out of town I eat a lot of frozen food. Totino's pizza rolls are definitely a favorite of mine. We recently got an Air Fryer and that has stepped up my fried food game too.
Do you have a favorite TV show?
Probably Frasier. I find it comforting. His pomposity is very lovable and endearing. I love that he just backs himself into a corner by lying every episode and has to fish his way out of it. I've always found it really delightful.
What's something about the brewery world most people don't know?
On my end, I would have to say how complicated draft systems can be, especially depending on the nature of the space in which it's being served. For example, here in the taproom, we have long draft lines that go all the way from the first floor up to the roof. Navigating those logistics and making sure that the beer is able to be served properly can actually be pretty difficult. It's a very technical process that involves a lot of trial and error and really honing in those measurements, particularly when you add in a nitro tab that functions differently.
We produce a lot of different beers here. How do you balance the keg rotation in the taproom?
There are a few things to consider. We try to coordinate what we have on tap with what's currently being promoted as a company overall. Anything newly released to the market, we're going to make it a priority to always have that on. Our allocation waxes and wanes over time. So there are times when we're really scrambling, asking what can we put on that's fun and exciting because we're just kind of in a dip in production. And then there are times when we have a surplus and we really get to be choosy about what we're going to put on the menu this week. We try to have a nice balance of light beers, hoppy beers, darker beers, seasonally appropriate, barrel aged, nitro beers, things of that nature. It really is a balancing act and it's about assessing what's available on a weekly basis and trying to make the most judicious decision that highlights our products in the best way.
What's on the horizon for you?
I think that hitting that five year mark at Rhinegeist has allowed us some perspective, being able to look back on the past five years and learn from some mistakes and grow and develop. I think that there's a lot in the pipeline that's exciting for the brewery and being in the taproom, being the face, in a way, of those positive developments is really fun. We've got a great customer base who's really enthusiastic about our beer and it's nice to have that engagement and to see what other people are excited about. The upcoming sixth anniversary party is going to be super fun; I'm definitely looking forward to executing that and creating an awesome experience.