Features
BYO DIY: Woodworking at Rhinegeist
We have a not-always-explicitly-stated motto here at Rhinegeist that goes something like this: "Whenever possible, keep it in-house." Back in 2013, we intentionally chose our location and planned our growth timeline in a way that afforded us the space and time to start small and grow our team and business from the inside. This decision produces benefits beyond the obvious ones. Access to a 250,000 square foot facility, for example, allowed us to avoid making the uncomfortable decision to brew off-site, a luxury that not every small but quickly growing brewery has. The early decision to self-distribute in Cincinnati and Columbus was crucial, as well. The more hands-on involvement and direct communication we have with our accounts, the better. When feedback reaches us unmediated, it allows for a much quicker response time—expediency that is of paramount importance when dealing with a product that depends so heavily on freshness (holler to the hop heads).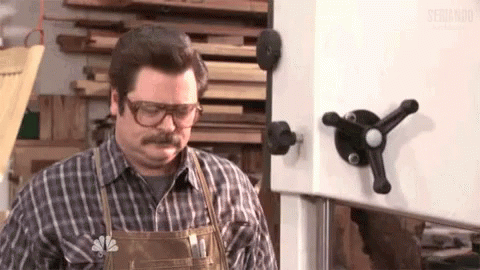 This DIY spirit extends beyond the beer — a lot more than the liquid, of course, needs to be tinkered with on a regular basis. No group in the brewery channels this ethos better than our woodworking team. Each member of the talented quartet — David Lloyd, Mike Brown, Joe Kinzelman, and Joe Humpert — is a bonafide fixer. In the brewery, you can't go far without encountering their work.
In the subsequent sections, we'll profile two of the woodworking team's finest achievements: the redesign of our Main Bar and the construction of GeistHut, our Great American Beer Festival (GABF) booth. Both are remarkable physical manifestations of Rhinegeist's strong and intentional culture of doing.
Main Bar
At this moment, the main bar in our taproom is being completely re-finished and extended. The bar hadn't undergone any serious maintenance since the day that we opened our doors over five years ago, and it was beginning to show. Refinishing and extending the bar is a very involved project — the main bar top itself consists of three large (16-foot) old-growth pine beams lashed together with hidden threaded steel bolts, together weighing over 700 lbs. Moving something this large and unwieldy off-site in order to plane and refinish it would be a big job, so having an in-house team and workshop makes the undertaking of this herculean task much more practical and timely and, ultimately, gives us more creative control.
"We do something different every day so I learn a lot of new things. There's a lot of trust that we're just going to get things done, which is a good feeling."
In order to refinish the bar top, the team hand-built an elevated steel sled to guide a free-hand plunge router along the bar top in painstakingly narrow rows (about an inch wide) until all of the old finish was removed and the top was flush and flat (Mike and David had a really good time doing this…). Additionally, the facing side of the bar consists of a collection of end-grain facing segments of pine — referred to internally as "cookies" — arranged like organically-patterned subway tile, each piece adorning the bar addition sawn from a pine beam and matched to the existing bar face's aged appearance through a light burning.
The new back bar is now constructed of concrete slabs that were meticulously poured, hand-ground and finished with multiple coats of tung oil in the basement of the brewery. The pleasantly repetitive texture of the pine grain, and smooth, deeply lacquered finish of the back bar surface is representative not only of the many hours the Rhinegeist shop team spent on the endeavor, but also of their sheer creativity, vision, and ability to solve problems on the fly, qualities that permeate every department in the brewery.
GeistHut
Joe Kinzelman and Joe Humpert mostly work out of a shop in Lower Price Hill, a neighborhood adjacent to the brewery's home neighborhood, Over the Rhine. This shop is where most of the more involved, one-off building projects take place (the ones that are portable, that is). The shop on premise at the brewery is generally booked with routine maintenance and projects with a quicker turnaround (giant bar-refinishes notwithstanding). The most recent, large-scale project that Joe K. worked on was a custom, collapsible and transportable tasting booth for the GABF 2018 in Denver, referred to internally as "GeistHut." The booth features a very contemporary, "tiny-house" profile, and is clad entirely in wood treated with a traditional Japanese burnt-finish technique called Shou Sugi Ban. The project took several months to complete, and is a great representation of the value and emphasis placed on innovation and sound craftsmanship here at Rhinegeist, as well as Joe's attention to detail and perfectionist ethic.
"There's a lot of support, and we hold each other accountable because we care about how we present ourselves and our beer."
Taking its impetus from Rhinegeist co-founder Bryant Goulding's interest in contemporary Japanese design, GeistHut began to take shape through discussions between Bryant, Creative Director Greg Althoff and Kinzelman. Initially, the design was more showy and expressive, but was eventually whittled down into something much cleaner and ultimately, more impactful in its simplicity. GeistHut is monolithic, but transparent, and although very design-forward, its ultimate function was to connect and interact with other breweries present at GABF while showcasing our own brews in an interesting and inviting way. We tried to achieve this transparency and allure by playing with light and darkness: GeistHut's slats were spaced in order to let light freely flow through them; the dark shou sugi ban finish of the exterior was contrasted with the bright, armor-sealed sugar pine interior; all of the beers that we brought to GABF were starkly featured on small, white fabric flags of the sort that would be hung over the backlit countertop window of an izakaya stall.
All of these considerations were fleshed out through discussion, but also rely heavily on the autonomy and trust placed in Kinzelman and Humpert. "There is a freedom of design that I get to exercise at Rhinegeist. Working with people that generally care about design and see how it fits into the overall brand is very reassuring and rewarding. Both the resources and time are available here to do things the right way," notes Kinzelman. "Everyone who works here is enthusiastic and curious about what we're doing. There's a lot of support, and we hold each other accountable because we care about how we present ourselves and our beer."
Generally speaking, the closer a brewery is to Denver, the more elaborate their GABF booth is. Shipping a large, interactive booth can be a very time-intensive and expensive problem to solve in itself. Shipping GeistHut was perhaps one of the most interesting parts of the project, and is a great example of how having a trusted, internal woodworking and design team yields real benefits.
According to our Distribution and Warehouse Director Mike Rutter, 10x4x4 was the largest feasible shipping size before you start to enter super-expensive, logistically murky waters. With these dimensional restrictions in mind, the Joes summoned up the painful recollections of every piece of Ikea furniture they have ever had a brush with, as well as the thousands upon thousands of hours of Tetris they had both racked up in youth, and wedded these experiences to their intimate knowledge of wood as a medium, creatively packing and shipping GeistHut by plane to its final destination out West. Due to the investment and trust placed in the internal team at Rhinegeist, we were able to overcome obstacles in a way that we were all proud of, and we had a good time doing it to boot. Keep an eye out for GeistHut at future events near you (although it will probably reach the destination via box truck moving forward…)!
—
Apart from these two large-scale endeavors, our shop team's touch is embedded throughout the brewery. Large, picnic-style tables made from reclaimed pine grid the taproom floor, accommodating all parties, from solo pint pilgrims to large celebratory gatherings. In our offices, conference tables of all types dot the space, from intimate four-seaters to huge Beowulf-banquet editions. Above our second taproom bar, a custom, wood-framed, backlit sign hangs, proudly displaying the current beers on tap. There's a white oak coat rack in the hallway that could easily double as a climbing wall. Even our rooftop bar was a completely custom job that could just as easily be found in a city with a regularly subtropical climate. Put simply, if it's wooden, odds are our shop team had something to do with it.
"We do something different every day," notes Mike Brown, "so I learn a lot of new things. There's a lot of trust that we're just going to get things done, which is a good feeling."
Translation: DIY or bust.