Beer Reviews
Antelope
Antelope leaps through fields of toasty, amber malts for a bready profile with a clean, bracing finish. Crafted for fans of traditionally balanced brews, the Amber Lager is a crowd pleaser that delivers plenty of flavor. Read on to get the field notes on our brand new addition to the herd!
Reviews are done by Travis Houston, our Sensory Specialist, Certified Cicerone, and FOBAB Judge.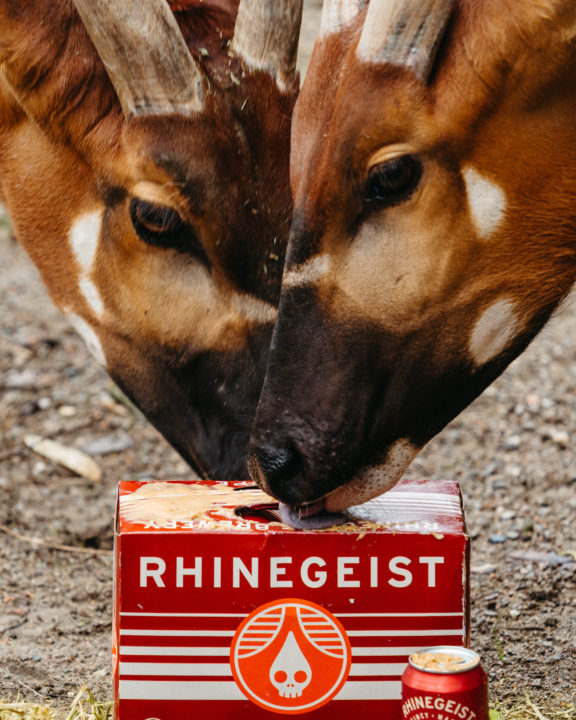 Malts: Pilsner, Munich, Red Malt
Hops: Ekaunot, Crystal
Antelope was originally a draft only release, but due to its popularity in our draft distro markets, we decided to can it. What do you think it is that people find so appealing about Antelope? 
Lagers are crafted to minimize flavor contributions from yeast, allowing the malt and hops to take over. Amber lagers feature malts that have been kilned slightly longer than the standard pale varieties. This extra time in the kiln gives these specialty malts an amber color, along with a rich, toasted character, both of which transfer to the finished beer. The result is a lager with a beautiful reddish hue and a flavor reminiscent of bread crust and toast. This combination of drinkability and malt complexity creates the perfect balance between refreshing and intriguing.  
Antelope the animal inspired the beer. The Cincinnati Zoo allowed us to spend some time with Stevie and Addie, their resident Eastern Bongos (a type of Antelope). Can you talk a little bit about this?
Yeah! The Cincinnati Zoo was kind enough to allow us to spend an afternoon getting some shots of Stevie and Addie with some Antelope (the beer) in their enclosure! We also donated some money that will go to care for Stevie and Addie through the Zoo's ADOPT (Animals Depend On People Too) program. Stevie and Addie weren't allowed to have any beer, of course, but this way we could still buy them a drink (and some food).
What are the notable characteristics of this beer? 
Amber in color with great clarity and fluffy white foam. The aroma leads with notes of toasted malt and cereal grain. The flavor follows, adding in hints of bread crust and dough, backed by medium-low sweetness and balancing bitterness.
What makes you want to drink this beer? 
The crisp lager character enhances drinkability, and the addition of Munich and Red Malt adds a delicious complexity that draws you in for another sip. Antelope is refreshing enough to be a warm weather refresher, but flavorful enough to be sipped around the fire.
Appearance: Light amber with good clarity and fluffy white foam.
Aroma: Toasted malt, bread crust, white bread dough.
Taste: Slightly sweet with the perfect level of balancing bitterness.
Mouthfeel: Light-bodied and crisp with subtle lingering notes of toasted malt.
Overall: Antelope is an amber lager with great clarity and fluffy white foam. Featuring notes of toasted malt, bread crust, and cereal grain, sweetness is perfectly balanced by bitterness, leading to a crisp, refreshing finish.
What foods would pair well with Antelope?
Antelope would go great with pot roast.
Ideal glassware for Antelope?
A standard shaker pint.