Beer Reviews
Mosaic (Pale Ale)
This single-hopped Pale Ale detonates upon the palate with a brilliant array of dank, tropical fruit, grapefruit blossom, mandarin orange and blueberries. Golden Promise malt provides a clean base — a kaleidoscope of flavor delivered with the simplest of recipes.
Reviews are done by Jim Matt, our Chief Science Officer, who is also a veteran FoBAB judge, GABF judge, and BJCP Master judge.
Malts: Pale Ale, Golden Promise
Hops: Mosaic
Mosaic is a single-hopped pale ale; can you tell us more about this hop?
Mosaic is a great new hop! It was released in 2012 as a daughter of Simcoe and Nugget. The hop has a complex array of tropical fruit, citrus, berry, herbal, earthy and pine characteristics.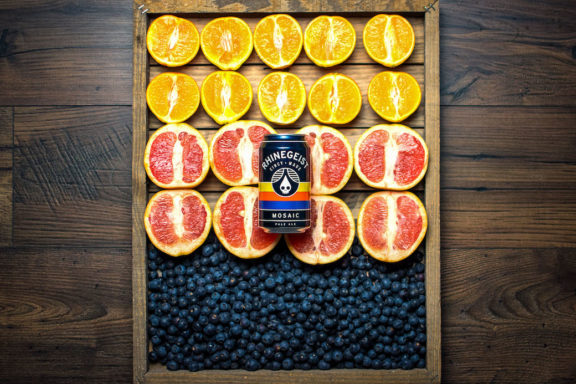 What are your favorite characteristics of this beer?
This beer is a showcase for Mosaic, and this single hopped pale ale has more complexity than most other single hopped ales.
What makes this beer distinct?
Not only is Mosaic a great hop with the spectrum of flavors that it presents, this beer seems to change sip after sip — it truly changes in the glass.
Appearance: Medium gold with a moderately persistent white head.
Aroma: Layers of peach, mango, grapefruit, pine and resin.
Taste: Tastes like it smells with complex fruitiness, some pine/resiny and slightly dank notes, along with a dry finish and moderate bitterness.
Mouthfeel: Medium light mouthfeel with no alcohol warmth and low astringency.
Overall: A pale ale with a light malt backbone that allows all of the good things that are in Mosaic hops to shine. With early sips, the fruit forwardness of the grapefruit and peach are evident, and as the beer warms, some pine, herbal, grassy and resiny notes take over.
What foods would pair well with Mosaic?
Chicken wings with a pineapple BBQ sauce or nachos.
Ideal glassware for Mosaic?
I'm always a fan of a tulip style glass for aromatic/hoppy beers like this but a pint glass will also suffice.