Beer Reviews
Hang Six (Brut IPA with Fruit Tea)
Hang Six defies dog days like a sprint through the sprinkler or a freshly carved watermelon. Dry, crisp, fruit forward and uncommonly crushable, this Brut IPA delivers a refreshing respite to sun-scorched palates with the force of an uncapped fire hydrant. It's been a hot half dozen years—kick back, cool off, and Hang Six.
Reviews are done by Jim Matt, our Chief Science Officer, who is also a veteran FoBAB judge, GABF judge, and BJCP Master judge.
Malts: 2-Row, Pilsner, Golden Promise, Carafoam
Hops: Hallertau Blanc, Huell Melon
This is our Sixth Anniversary beer! Talk about some of the anniversary brews that predate Hang Six.
We have mainly focused on IPAs for the anniversary party. After all, some think all we do is brew IPAs and that is true when it applies to anniversary brews! From the first anniversary IPA (Rookie) to last year's Cloud 5, we always try to be innovative and brew something that we had not brewed before.
This brew features a tea infusion from our neighbors at Churchill's. Where did the idea for a Brut IPA with Tea come from, and what does this specific tea add?
Our specialty beer experiments with Ox led to him trying a bevy of teas from Churchill's. Many of the teas offer up bright fruit flavors and aromas, plus they are a local establishment. We thought the fruit forward nature of the tea would balance out with the bone dry character of a Brut IPA.
What are the notable characteristics of this beer?
Unique, fruity, dry, but not too bitter or harsh.
What makes you want to drink this beer?
It is so dry and refreshing, especially at this time of the year.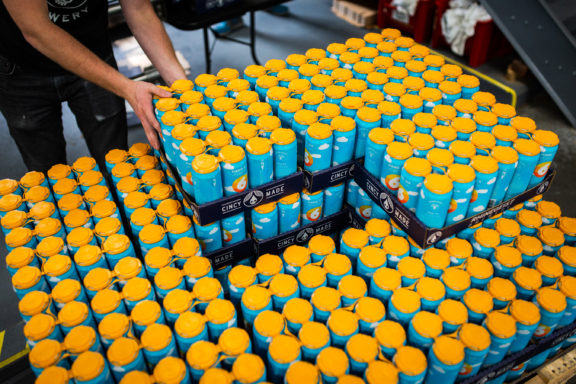 Appearance: Medium Yellow color, quite clear. Medium carbonation. Thin head that does not persist.
Aroma: Medium high fruity aroma, very watermelon upfront that fades into hints of honeydew, cantaloupe, and peach. Some light floral (geranium) and herbal notes. Low malt aroma. Low fruity esters.
Taste: High fruit flavor almost, "punchy." Watermelon, black tea, cantaloupe, and a hint of peach. Low malt flavor. Medium bitterness. Very dry on the finish.
Mouthfeel: Medium light body, light astringency, low alcohol warmth.
Overall: A dry, fruity Brut IPA that really satisfies the palate.
What foods would pair well with Hang Six?
Orange chicken or sorbet.
Ideal glassware for Hang Six?
This glass works great!