Beer Reviews
Hops is Real (West Coast Style Double IPA)
The highway to hops…
The trek up I71 from Cincinnati to Columbus isn't the most exciting drive, but it's always worth the trip if it ends with a tasty brew. In order to prove that central Ohio isn't all corn fields and commandments, and that you don't need a coastline to brew a great beer, we teamed up with our friends at Columbus Brewing Company and turned out an Ohiotastic DIPA featuring Citra Spectrum and Motueka hops. To get the fiery details on this hellaciously good collab, read on. Hops IS real!
Review courtesy of our Sensory Specialist, Travis Houston, a Certified Cicerone and FoBAB judge.
Malts: Pilsner, Vienna, Dextrose 
Hops: Citra, Motueka, Citra Spectrum
This brew is a collaborative effort with another Ohio brewery, Columbus Brewing Company in Columbus. Talk about how this partnership came to be. 
Aside from being incredibly informative, brewing conferences present the perfect opportunity to meet other brewers. And after a few beers at the after party, the idea for a collaboration is bound to happen. This is the exact scenario that led to the creation of Hops is Real, as a group from Rhinegeist shared beers with the Columbus Brewing Company crew after a craft beer conference in Ohio. 
The name and can design both reference a notable landmark located on I-71, between the two breweries. Can you provide a little background for those unfamiliar?
The drive between Cincinnati and Columbus isn't very long, just a little over an hour, but it's very forgettable. As you're passing endless corn fields, barns and forests, suddenly a billboard appears with an interesting message— "HELL IS REAL." There's little else surrounding the billboard other than farmland, which makes it all the more memorable. With the deep connection between Cincinnati and Columbus, residents from both cities are well aware of the sign, and associate it with a trip to the opposite city.
What are the notable characteristics of this beer? 
The weather has been incredibly hot lately, and IPAs are a perfect refreshment to help beat the heat. The elevated bitterness and lack of sweetness leads to a quick, refreshing finish. And with this being a Double IPA, the elevated alcohol level thins out the body and increases drinkability. The heavy-handed dry hop regimen also amps up notes of passionfruit and tangerine, with just a touch of sweet malt to balance out the massive amounts of Citra and Motueka.
What are some of your favorite West Coast Style Double IPAs?
The originator of the style is Pliny the Elder from Russian River Brewing Co., which is still one of the best, most sought after beers available today. The Enjoy By series from Stone is always great, and guaranteed fresh. Locally, the High series from MadTree— Citra High and Galaxy High are two person favorites — are amazing West Coast hop bombs.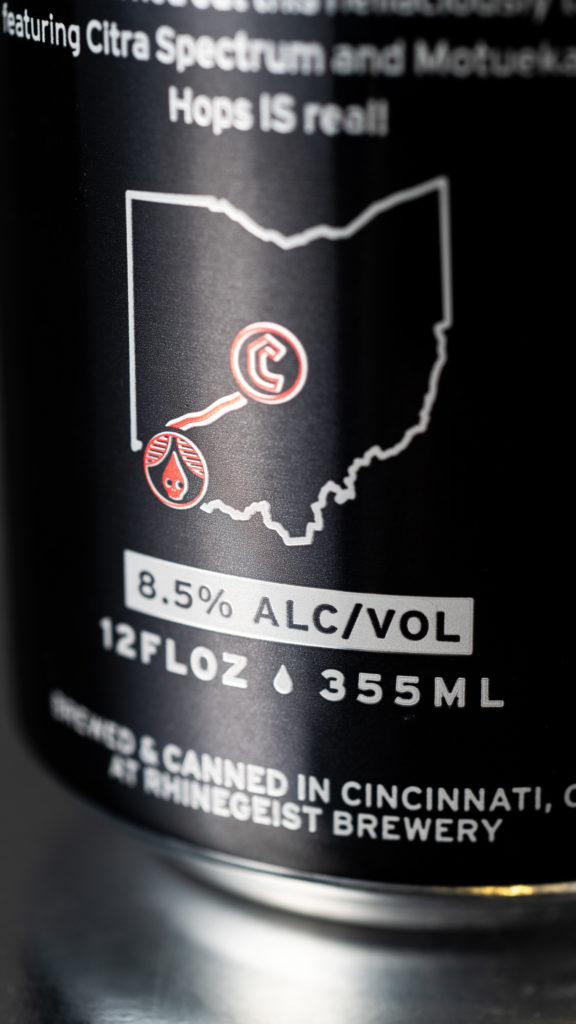 What makes you want to drink this beer?
I really enjoy hazy IPAs and all they've brought to the world of craft beer, but my first love will always be West Coast IPA. Since their peak in popularity about a decade ago, these bitter hop bombs have become much more rare. This beer is as West Coast as a beer brewed in Ohio can be, utilizing massive additions of dank, aromatic hops.
Appearance: Light gold with good clarity and fluffy white foam.
Aroma: Notes of passion fruit, tangerine, and pineapple, with the slightest hint of alcohol heat.
Taste: Medium high bitterness with just enough balancing malt sweetness.
Mouthfeel: Light, effervescent, and refreshing, with pleasant lingering bitterness.
Overall: This West Coast Double IPA throws back to the early craft beer days, featuring hop derived aromas of passion fruit and tangerine, backed by high bitterness and the slightest hint of light malt.
What foods would pair well with Hops is Real?
Since this is an Ohio-centric brew, this would go great with some Cincinnati chili!
Ideal glassware for Hops is Real?
Anything with a curved rim to trap and release all those bright hop aromatics (but we won't tell if you wanna use a pint glass).