Beer Reviews
Lawnchair Hotrod (Tropical Lager)
Cheers to goin' nowhere fast!
This easy-drinking, freewheelin' Tropical Lager will get you where you want to go on the double (as long as that's somewhere sunny and relaxing). Lawnchair Hotrod is a refreshing ride revved up with thiolized notes of mouth-watering tropical fruit and bright citrus. Good vibes coming down the track! Lawnchair Hotrod is a seasonal release, available in cans and on draft. To get a peek under the hood of Lawnchair Hotrod, read on!
Review courtesy of Chaz Thrashington (a.k.a. Travis Houston), Sensory Specialist, Certified Cicerone, FoBAB judge, expert on rad jumps, and certified gnarly shredder.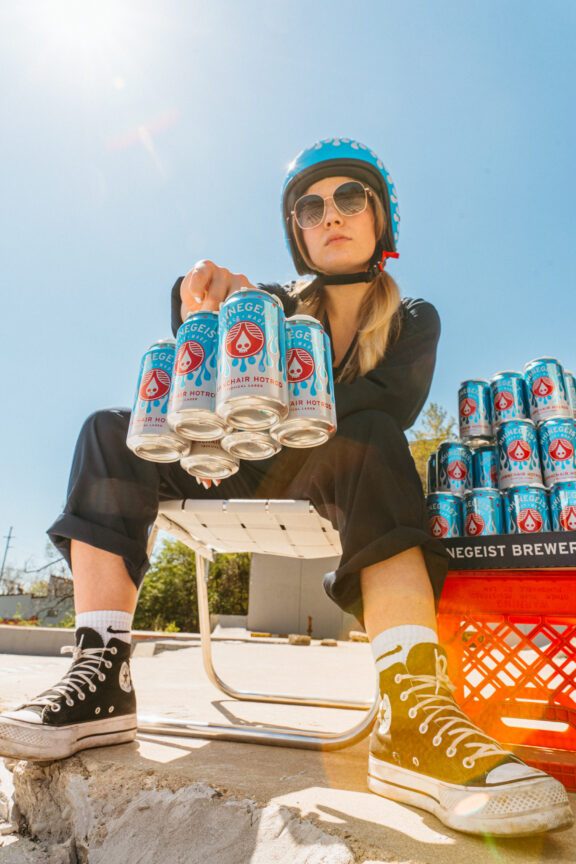 Lawnchair Hotrod is an unusual style; can you give us a little background on this beer? 
Our goal with this release was to add some excitement to the traditional summer seasonal category.  There are plenty of fruit beers and light blonde ales out in the market this time of year and everyone knows there is never any shortage of IPAs on the shelf.  We all know lagers are slowly making a comeback but we thought it would be fun to hammer down the gas pedal and do our part to accelerate the trend.  Enter Lawnchair Hotrod.  The perfect beer to add some flair to summer sun enjoyment.
Lawnchair Hotrod utilizes a Thiolized yeast. So, what is "Thiolized Yeast"?
Pioneered by our pals at Omega Yeast, we've been having a ton of fun over the past year experimenting with various Thiolized yeast strains to create some novel, exciting brews! Thiols are aromatic compounds produced during the brewing process that evoke tropical, berry and citrus fruit flavors and aromas. These new strains generate more thiols and are much more intense and vivid than is achievable with more traditional strains. We hope you have as much fun drinking these beers as we have had brewing them!
What makes you want to drink Lawnchair Hotrod?
The first thing people will notice about this can is the amazing can design. The moment you pop the tab, notes of passionfruit and guava blast your senses. The first sip continues with those tropical notes, but adds in some hints of malty sweetness and balancing hop bitterness—just enough to create a brew that's equal parts exciting and refreshing.
Appearance: Light straw colored with slight haze and fluffy white foam.

Aroma: Notes of guava, passion fruit, and tropical punch dominate the aroma, with just the slightest hint of crackery malt.
Taste: The flavor is mildly sweet with low bitterness, allowing the tropical thiols to take over.
Mouthfeel: Light bodied with medium carbonation and lingering topical notes.
Overall: Lawnchair Hotrod is a Tropical Lager that uses Thiolized yeast to deliver massive notes of passionfruit, guava, and tropical punch. A light malt bill adds just enough sweetness to create a brew that's both flavorful and refreshing, with just enough balancing bitterness to lead to a crisp, tropical-punch filled finish.
What foods would pair well with Lawnchair Hotrod?
This beer is meant to be paired with sunshine and fun times, making it the perfect backyard cookout beer. The tropical notes would pair especially well with lemon pepper wings.
Ideal glassware for Lawnchair Hotrod? This one can be drank straight from the can, but a standard shaker pint glass will work too.