Beer Reviews
Night Whale (Imperial Stout)
Call me Night Whale.
This barrel-aged leviathan is breaching the surface—singing its sonorous song resounding with notes of roasted malt, dark chocolate, toasted oak and vanilla. As elusive as it is colossal, Night Whale is sure to swing open the great floodgates of the wonder-world.
Night Whale is available in three different barrel variants this year: Bourbon, Rye and Red Wine—each accentuating and imparting different flavors in this massive and nuanced brew.
Reviews are done by our Sensory Specialist Travis Houston, a Certified Cicerone and FoBAB judge.
Malts: Maris Otter, Dark Crystal, Chocolate, Roasted Barley, Golden Naked Oats, Candi Sugar
Hops: Magnum, Challenger
At 15.8%, Night Whale is a beast of a brew. What was the inspiration behind this beer?
Barrel Aged Imperial Stout is a style of beer that has evolved pretty quickly in its short history. The alcohol content, fullness of body, and intensity of flavors have all increased, especially in the past decade or so. Once a niche style, barrel aged stouts are now some of the most sought after and cherished beers in all of craft. We brewed Ink, our original Imperial Stout, in the more traditional way, with less alcohol and a bit more finesse. Instead of changing Ink, we decided a better route would be to design a recipe that was only meant to be barrel-aged, while pushing the envelope of what a beer can be. With that, Night Whale was born.
What makes you want to drink these beers?
These beers are meant for sharing. With the over-the-top flavors, high alcohol, and slightly higher price point, opening a few bottles of this style with a few other people is always a great time. Fortunately, it's also a big enough beer that it will age well in the bottle, and still taste great when sharing is easier again. With that said, this beer is surprisingly drinkable for how high the alcohol content is, so finishing a snifter is more than feasible, just make sure you walk the dog and finish the laundry before you pour the glass.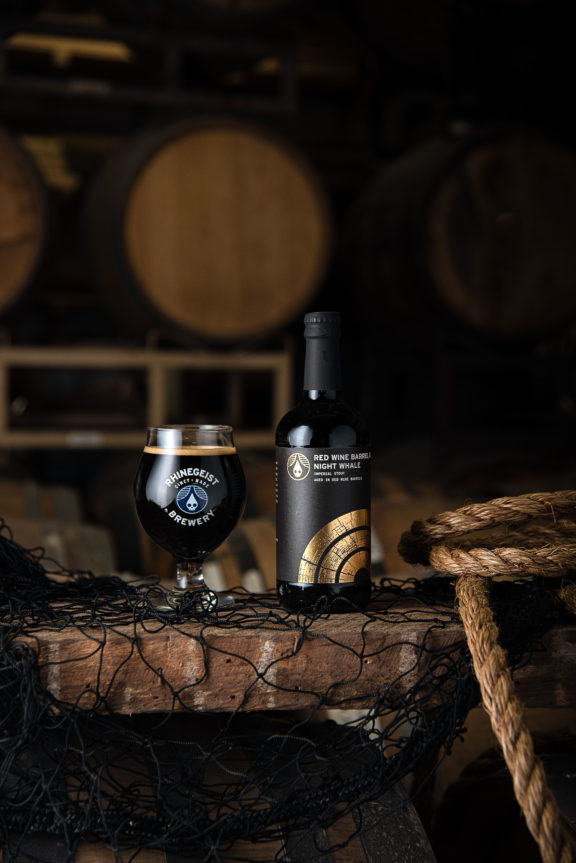 Appearance: Jet black with thick, tan foam and plenty of lacing.
Aroma: Malt driven aromas of espresso bean, licorice, bourbon soaked raisins, and dark chocolate are accented by loads of barrel derived vanilla and oak. Alcohol is present, but subdued and well integrated.
Taste: Medium-high bitterness is matched by medium-high sweetness, lending to a very drinkable, incredibly balanced beer. Notes of dark chocolate, coffee, and vanilla lead the flavor, backed by dark fruit and oak.
Mouthfeel: Full bodied and creamy with some slight alcohol warmth on the finish.
Overall: Featuring notes of dark chocolate, espresso, vanilla and oak, this jet black Barrel Aged Imperial Stout is well balanced, masking the high alcohol content and leading to a surprisingly drinkable brew.
What foods would pair well with Night Whale?
This beer is more than able to stand on its own as an after-meal treat. The rich, roasted malt character would also go great with a rich beef stew. Also, the hints of vanilla and chocolate would pair great with chocolate covered cherries or strawberries.
Ideal glassware for Night Whale?
A snifter or smaller tasting glass