Features
The Story of Ink
We get really excited around this time every year. The weather is cooling rapidly, the leaves are falling, the days are getting shorter—all of which means one thing from a brewery POV: barrel aged season is upon us. More specifically, this is the time of year when our indelible Imperial Stout, Ink, is released in all of its dark, rich, oaky, roasty-toasty forms. 
In 2019, we decided to mark this exciting time of year with INKED, a celebration of all things ink—wearable, drinkable, and otherwise. We invited some of our favorite tattoo studios in the area to the taproom for some LIVE tattooing, and guests were able get some unique flash work done by their favorite artists while they were perusing the latest Ink vintages, if they were feeling particularly adventurous that day. The event was a big hit, but 2020 dealt us the same hand that the world at large was dealt, and we weren't able to celebrate the release in person. A year has passed, however, and we are excited to announce the return of INKED! On Saturday, November 20th from 12-8pm, special variants of our indelible Imperial Stout will be available on draft and in bottles, while some of Cincinnati's premier studios will be doing live tattoos of pre-selected flash art on a first-come, first-serve basis. Early attendees will receive a custom Inked tote and first dibs on flash appointments. 
To get you in an inky mood, we are offering here a brief history of ink, from ancient tattooing practices to the printed word, ending with the apotheosis of ink (at least according to us): our eponymous Imperial Stout. We hope to see you at INKED 2021 in November!
Tattoo You
Tattooing has been practiced far and wide since Neolithic times, as evidenced by mummified tattooed skin, ancient art and archaeological records. Archaeological digs unearthing likely tattoo tools suggest tattooing was practiced during the Upper Paleolithic period in Europe, although evidence from mummified human skin extends only to the 4th millennium BC. The oldest discovery of tattooed human skin to date is found on the body of Ötzi the Iceman, which dates from between 3370 and 3100 BC.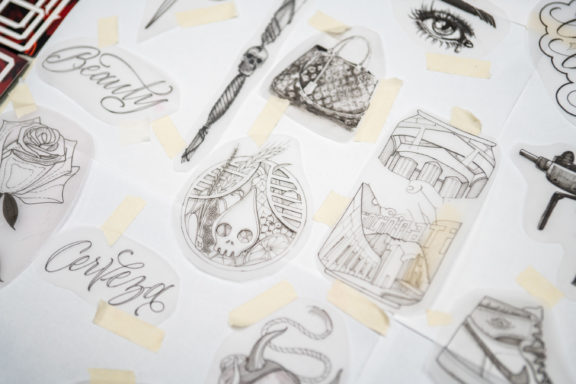 Modern Ink
Tattooing has steadily increased in popularity since the invention of the electric tattoo machine. In 1936, 1 in 10 Americans had a tattoo of some form. In the late 1950s, Tattoos were greatly influenced by several artists in particular Lyle Tuttle, Cliff Raven, Don Nolan, Zeke Owens, Spider Webb and Don "Ed" Hardy. A second generation of artists, trained by the first, continued these traditions into the 1970s, and included artists such as Bob Roberts, Jamie Summers, and Jack Rudy.
Since the 1970s, tattoos have become a mainstream part of global and Western fashion, common among all genders, economic classes, and age groups. Formal interest in the art of the tattoo became prominent in the 1970s and continues today. 
In the beginning was the word (and picture)…
Many ancient cultures around the world have created inks for the purposes of writing and drawing. The knowledge of the inks, their recipes and the techniques for their production all come from archaeological analysis or from examples of written text. The earliest inks are believed to have been made with lampblack, a kind of soot, as this would have been a byproduct of fire and thus easy to collect.
Chinese inks go back as far as three or four millennia, dating to the Chinese Neolithic Period. Plant, animal, and mineral inks based on such materials as graphite that were then ground with water and applied with brushes. Direct evidence for the earliest Chinese inks produced from lampblack and animal glue dates from around 256 BC. 
Making Ink
India ink was invented in China, though materials were often traded from India, hence the name. The traditional Chinese method of making the ink was to grind a mixture of hide glue, carbon black, lampblack, and bone black pigment with a pestle and mortar, which was then dried in a ceramic bowl. To use the dry mixture, a wet brush would be applied until it reliquified. 
The reservoir pen, which may have been the first fountain pen, dates back to 953, when Ma'ād al-Mu'izz, the caliph of Egypt, demanded a pen that would not stain his hands or clothes, and was provided with a pen that held ink in a reservoir.
Gutenberg Modernizes Ink
In the 15th century, a new type of ink had to be developed in Europe for the printing press by Johannes Gutenberg. Two types of ink were prevalent at the time: the Greek and Roman writing ink (soot, glue, and water) and the 12th century variety composed of ferrous sulfate, gall, gum, and water. Neither of these handwriting inks could adhere to printing surfaces without creating blurs. Eventually an oily, varnish-like ink made of soot, turpentine, and walnut oil was created specifically for the printing press.
Drink Ink
Our indelible Imperial Stout Ink debuted in 2014, bottle release #1 in the brewery's history. Named for its arresting, jet-black appearance —"it'll stain the soul!" as our co-founder put it — Ink is a rich, dark and heavily roasted seasonal favorite available annually in limited runs of bottles and draft. 
Since its original release, we've worked a number of Ink variants into our portfolio, including several barrel aged versions of Ink: Café Ink (featuring coffee), Barrel Aged Mole Ink (featuring a spice blend and chocolate), and others. We have had the great fortune to team up with our southbound neighbors at New Riff Distilling, who supply us with the steady stream of freshly used spirits barrels we use to age our BA offerings.
Every year, our Barrel Masters take the time to come up with a new, unique recipe that we can feature alongside our annual Ink releases. This year's Ink variant will is Barrel Aged Cherry Cordial Ink, and features a blend of cherries, vanilla, chocolate and smoked black Persian limes—a very unique ingredient that adds a tremendous amount of depth and complexity to the brew, but doesn't show up as a commonly recognized "lime" flavor. We hope that you make it to INKED this year, and manage to pick up a bottle or two of the new variant along with some other perennial favorites. Drink Ink, get inked!