Newsletter
Our First Ever Nitro Can: Newsletter 4/10/2019
All the latest from the Geist: new nitro cans, blog features galore, and taproom to-dos.
Cobbler Cascade
Introducing Cobbstopper (4.4%), our new Nitro Peach Cobbler Ale!
Musing on our bright and frisky Peach Dodo, this nitro nocturne is suffused with a healthy dose of vanilla and lactose. A tart and silky reverie revealing notes of peach, vanilla cream and soft spice.
Cobbstopper releases in the taproom this Friday and we're throwing a peach dream party to celebrate: doors open at 3pm. Limited distribution rolls out next week.
For the full nitro experience, this beer is best enjoyed in a glass; shake before opening and pour hard!
Blog Business
While we're (rightfully) known as hop heads here at Rhinegeist, we'd be remiss not to give yeast its due. Our latest blog feature profiles our young but growing library of in-house cultures, exploring the funky, spicy and unorthodox worlds of fermentation.
Kalmer, our new Kölsch with Lemon and Cucumber, gets a new Beer Review, along with our freshest Hazy IPA, Beta Guppy.
In the most recent edition of Rhinegeist Recipes, Zach and Fran of Sartre OTR whip up Coneys with Hustle, our seasonal IPA.
Brewery Happenings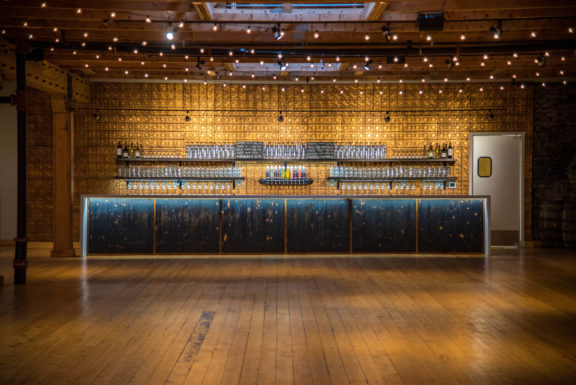 Open (Club) House
We're hosting an open house in our event space this Sunday from 12-4pm! All are welcome to stop by, check out the space and meet our events team. Our Clubhouse can host private parties, weddings, corporate events and more.
For more info on our private event offerings, pop over to our website.
Hop Couture
Join us for a live runway show featuring unique draping and tailoring creations from the talented third-year students from the College of Design, Architecture, Art andPlanning at the University of Cincinnati. Special fashion guests and a live DJ will outfit Rhinegeist's premier fashion event on Friday, April 26th.
For full details- including VIP seating- check out the Facebook Event Page.
Beer Feast
On Sunday, April 28th, gather around the table with friends both close and casual as we present a lavish, multi-course Beer Feast punctuated by some of our most unique and flourishing brews. Sartre OTR has curated a distinctive, beer-focused, family-style menu that melds seasonal flavors and rich textures with the complex accents of our warm weather offerings to celebrate the coming of spring.
Attendees will begin their food + beer journey with a cocktail in the Sartre bar. Shortly after, guests will be escorted to the Rhinegeist Tap Room for their feast to begin.
Reservations and full menu are available on the Event Page.
—
The Rhinegeist Team