Features
The Story of Truth
Newness is a tempting quality. People like new things: that new car, new phone, new merch, new dish — as long as it isn't what they've had before, it has their attention. We've observed this phenomenon at Rhinegeist. New equals unknown, and an unknown beer or cider could be someone's new favorite beverage. The mystery breeds excitement.
Conversely, people also like certain things, things that are notably un-new. That sandwich, that couch in your childhood home, that song you know by heart. Familiarity promises comfort — no matter how far you stray from your go-to, it will always be there, ready to welcome you back with open arms.
For us, that beer is Truth, our flagship India Pale Ale. How Truth achieved this hallowed status, how it grew from humble kitchen creation to fridge staple to the best-selling IPA in the state of Ohio, is a story worth hearing.
Inspiration Island
Jim Matt was all-in. It's the early 2000s in Indianapolis, Indiana, and Jim, at the suggestion of his colleague at Eli Lilly Pharmaceutical, has taken up homebrewing. Now, after a multi-month deep dive into the hobby, it has taken over his life.
He figured this might happen — his hobbies ne'er stayed hobbies for long. First, there were the books — Homebrewing For Dummies and The Joy of Homebrewing, Charlie Papazian's DIY beer making magnum opus. Then he was borrowing his neighbor's all-grain brewing system, joining a homebrew club, and entering and winning a bevy of competitions. The kitchen creation game had Jim in its stainless steel clutches.
"I got to that point where I was fully in," said Jim. "Temperature-controlled fermentation, very carefully selecting ingredients, and visualizing the recipe."
As Jim's homebrew visions became clear, the rest of his world became murky. Layoffs at Eli Lilly ended Jim's tenure with the company, vaulting him back into the job market unexpectedly.
"I had to figure out what I wanted to do when I grew up again at age 44," said Jim. "I wasn't sure."
Enter beer. Leveraging his homebrewing chops, Jim landed gigs at a few brewpubs and breweries around Indy, enjoying stints as a packager, a brewer and a quality control expert. Soon, his beer career took a turn eastward to Cincinnati, Ohio, where he continued to build his liquid resume at various local hotspots.
Eventually, Jim met an enterprising coffee shop owner in the Queen City named Bob Bonder who, over the course of many espressos, pitched Jim on his next venture: a brewery called Rhinegeist located in Cincinnati's Over-the-Rhine neighborhood. Bob, well-aware of Jim's brewing exploits, wanted him to be his Head Brewer. After a period of persuasion, Jim joined Bob and his co-founder Bryant Goulding on the Rhinegeist team.
Over the next few months, planning intensified and Jim honed in on recipe creation, working around the clock to ready himself for the brewery's imminent opening. He did, however, find some time to homebrew a few creations just for himself, including an interesting beer he dubbed "Inspiration Island."
"Totally separate from the Rhinegeist project, I was doing this experiment to see just how many hops I could cram into a beer," said Jim. "My only intention was to have it for my own personal consumption."
The beer was a marvel. Made with the equivalent of seven pounds per barrel of hops, it featured a quartet of aromatic American varietals: Amarillo, Centennial, Citra and Simcoe. Jim sensed that he had something special on his hands.
"It went through a fermentation, then I dry hopped it, then I did a second dry hop on it, where I pulled a bunch into a keg that had whole cone hops," said Jim. "I filtered it and it came out to be this really beautiful IPA."
A good beer, unsurprisingly, is difficult to keep under wraps and, after tasting Inspiration Island, Bob requested a batch to showcase at an upcoming meeting of potential investors. In his view, this brew was the tasty ticket to Rhinegeist's prosperous future.
"I told Bob, 'Hey we cannot brew this beer on a big scale, it's got way too many hops." said Jim. "He just laughed and said, 'You let me worry about that.'"
And aren't we glad he did. Inspiration Island wowed the meeting's attendees and, a few months later, would wow Cincinnatians under a new, simple and memorable name: Truth.
"The world didn't need another IPA," said Bryant. "With that in mind, we named ours Truth because we knew it would likely decide the trajectory of the brewery."
Delicious Debut
Let's pause for a quick beer history lesson. In the early 2000s — right around the time Jim was honing his homebrew chops in Indy — craft beer wasn't really a thing. Consider that from 2000 to 2005, the number of craft breweries actually declined in the United States, from 1,556 to 1,147 — a long way from the end-over-end growth we've become accustomed to today. It was actually not until 2009 that the brewery population skyrocketed, a burst of brewing activity driven in part by the public's enamorment with a new — technically, revived — beer style: the India Pale Ale. Bob, Bryant and Jim were well-aware of this phenomenon as they devised the initial beer lineup for Rhinegeist.
"The IPA category at the time was rising meteorically," said Jim. "Bob and Bryant were dead set on having an IPA as a core brand, which I thought was smart. It was just a matter of figuring out what we wanted."
Inspiration came from the West. Bob, Bryant and Jim were all admirers of the dry, hoppy and fruit-forward IPAs typical of the left coast — Bryant had actually sold quite a few of them during a beer sales stint in San Francisco years earlier. The trio saw an opportunity to import the style to the Queen City.
"You think about IPAs from that 'era' — it wasn't that long ago — it was a generation of beers," said Jim. "Certain hops from Washington, so called 'c- hops' — Chinook, Cascade, Centennial — were the de facto standard… I was inspired by my favorite IPA at the time, Sculpin IPA [Ballast Point, San Diego, CA], it always had a bit of a mystique quality to it. You could get a little tropical fruit character and this other character that wasn't typical of c-hops. So I was thinking of doing something along those lines, a beer inspired by that."
Inspiration, in this case, did not immediately dovetail with practicality. At the time, West Coast style IPAs were not brewed in the Midwest because the hard-to-get hops harvested in Yakima, Washington, and used in beers like Sculpin were, well, really hard to get, especially for young breweries.
"In those early days, I was convinced we couldn't get the hops to make Truth," said Jim. "I was trying different iterations, but nothing was striking a chord."
"In 2012, as we were iterating on what our IPA would be, there was a serious shortage in hops, especially those with assertive tropical character like Amarillo, Simcoe & Citra," said Bryant. "We had to work hard to line up enough of these rare varietals for our first year of projections and then sort of forced our way into hop selection the following year. Many of our hop suppliers received our ambitious forecast with raised eyebrows but they started to take us more seriously after a few years of follow through."
"Without this hookup, we were up against a wall and Truth wouldn't have been the same beer that we know and love today."
The trio's brashness soon paid dividends, with Bryant able to leverage a few personal relationships to lock down the hops necessary to brew Truth on a large scale.
"Bryant knew this guy Jamie Floyd from Ninkasi Brewing and they had Amarillo [hops]," said Jim. "We got a few boxes of Amarillos in exchange for future considerations, like a sports trade…That was an important competitive advantage for us."
"We couldn't get any Amarillo hops at all," said Bryant. "It's a patented proprietary varietal grown by select growers and we were brewing many batches trying to substitute for Amarillo yet retain the gummy bear and tropical fruit character that we loved from that hop. We ended up securing a contract for Amarillo in 2014, but then swapping some of that volume for hops that Ninkasi had on hand — that 800lbs were what got Truth as a brand off the ground. Without this hookup, we were up against a wall and Truth wouldn't have been the same beer that we know and love today."
With hops in hand, Jim and new brewer Luke Cole started pumping out batches of Truth, and Bob and Bryant started getting it into the hands of Cincinnati's beer connoisseurs, distributing 18 bottles of the IPA to select local purveyors. Rom Wells, at that time the bar manager at local haunt The Rookwood (Rom is now an employee at Rhinegeist), was one of the lucky 18 that got to rendezvous with the fruit-forward brew.
"There was a noticeable dearth of solid IPAs in the Cincinnati area," said Rom, "Then here comes this bountifully-hopped palate defibrillator that could hold up against anything coming from the West Coast, and it was being brewed by some hometown greenhorns. I was in."
By the summer of 2013, Rhinegeist, with plenty of positive feedback at its back, was ready to open. On June 28, with Truth leading the charge, the brewery welcomed 2,000 thirsty and excited Cincinnatians to 1910 Elm Street for the first time.
"Imagine being punched in the face with a bouquet of flowers, in a good way."
"We were serving Truth that just been crashed the day before and kegged that morning," said Bryant. "We were just learning fermentation profiles in our first round of beers and we were certainly starting off fresh."
"I distinctly remember Bob and me collecting as much glassware as we could find to wash and get back on the shelves," said Dennis Kramer-Wine, past Director of Distribution and current Director of Culture. "Every now and then we would smile at each other, high five and shake our heads at what was happening — it was a very long day."
Rhinegeist poured four beers that day, with Truth causing a particularly palpable stir. Feedback for the brew was universally excellent, sentiment captured by an early review in Cincinnati Magazine:
"Imagine being punched in the face with a bouquet of flowers, in a good way. That's what you get when you order a pint of Truth. A combination of three-pounds worth of rare hops (Amarillo, Centennial, Citra and Simcoe) thrown in late in the brewing process produces one of the most potent, pleasant aromas I've ever encountered in a beer. More than one person stopped to ask me what I was drinking because they caught a waft of Truth as they passed by—it's that strong. The taste, crisp and refreshing with a short, sweet finish, lives up to the aroma."
Tears for beers: Truth was a hit.
Yes We Can
By the end of 2013, Rhinegeist had serious momentum. In just a half-year, the brewery had managed to sell 2,000 barrels of beer — over 650 kegs per month — nearly 50% of which was Truth. Initial demand had far exceeded expectations, an accomplishment fueled in part by the brewery's ambitious decision to self-distribute its products.
"There's nobody that speaks to your product like you do," said Dennis. "You could have the greatest distributor, one that really cares, but they'll never, in their heart of hearts, talk about our product the way we talk about our product.  How could they? To have salespeople developing one on one relationships with accounts, then drivers giving attention to a beer buyer, there's nothing like it."
Such rapid early growth spurred opportunity and action. After a period of meticulous production planning and design work, Rhinegeist started canning beers in early 2014, a move that opened up sales avenues into retail and convenience stores, and helped the brewery establish a brand identity. First up on the to-can list was the hot-seller Truth, which quickly won a passionate following amongst seekers of the six-pack.
"Truth cans immediately started selling out," said Dana Cummin, Rhinegeist's first full-time salesperson. "We were running the canning line around the clock, but it just wasn't enough. We actually had a bit of a scarcity issue because of how fast things were moving. I can remember loading 35 cases of Truth into my Ford hatchback on a Saturday for a local account. It was quite a ride."
"If this IPA didn't pan out or was just run of the mill, our trajectory would have been way different and we know that."
Simultaneously, Truth started garnering attention outside of Cincinnati. The IPA won silver at the Indiana Brewers Cup and Men's Journal named it one of the 100 best beers in the world, the latter honor introducing Truth to a national audience.
"[After seeing the Men's Journal article], I had a high school buddy from New York who shot me an email with his flight confirmation," said Bryant. "He said he was, 'coming to see this damn brewery!'"
Increased exposure allowed Rhinegeist to expand its distribution geographically. Over the course of the next four years, Rhinegeist spread its suds to Kentucky, Columbus, OH, Cleveland, OH, Massachusetts, Pittsburgh, PA, and Indiana, with new Rhinegeist drinkers continuously singling out the delicious IPA in the green can.
"If there was ever a time to use the phrase 'to hold a tiger by the tail' then this was most certainly it," said Gregg Wilson, Rhinegeist's Kentucky Sales Lead. "Truth oozed over the border into Kentucky [in late 2014/early 2015] and was being grabbed off the shelf faster than we could keep up with production."  
"Truth was one of those IPAs, where I constantly got the comment, 'I don't like IPAs, but I like Truth," said Jim. "And even to the next level — these caught me by surprise — 'I don't even like beer, and I like Truth.' In the early days… that was the constant wave of praise that Truth was getting. Once you're hooked on it, it's hard to switch off of it."
Sales numbers told a similar story. By 2018, Truth's quantitative resume was eye-opening: #1 best-selling craft beer in Cincinnati/Dayton, #2 best-selling craft beer in Kentucky, #1 best-selling craft IPA in Ohio and Kentucky, #15 best-selling craft IPA in the United States — in Ohio alone, 1,284,094 case equivalents have been sold since 2015.
Such continuous, long term success, according to Bryan Roth of beer blog Good Beer Hunting, is anti-trend, an anomaly amongst a growing stable of formerly hot, now growth-starved brands.
"Looking at IRI off-premise sales, Truth is just one of a collection of brands from regional breweries that are boosting fortunes at a time when many businesses of similar and larger sizes are seeing flat growth," said Roth.
This fortunate reality is something Bryant and co. do not take for granted.
"If this IPA didn't pan out or was just run of the mill, our trajectory would have been way different and we know that," Goulding told Roth in an interview. "Doubling down on the name and early success of that was a really great move."
Quality is a War
Rhinegeist's lab team is an efficient bunch, particularly with their words.
"We taste things," said Sensory Specialist Travis Houston. "I like it."
Light on detail, but not wrong. The quality team is uniformly friendly, brilliant and jazzed about their jobs. Nestled in a sterile, Breaking Bad-esque space one floor beneath the Rhinegeist taproom, they work quietly and decisively, testing, tasting, and analyzing samples of beer.
The lab team's mandate is straightforward: no bad beer. When a product leaves the building, it must be high-quality — i.e. not contaminated in any way — and, more obviously, it must taste how it's supposed to taste.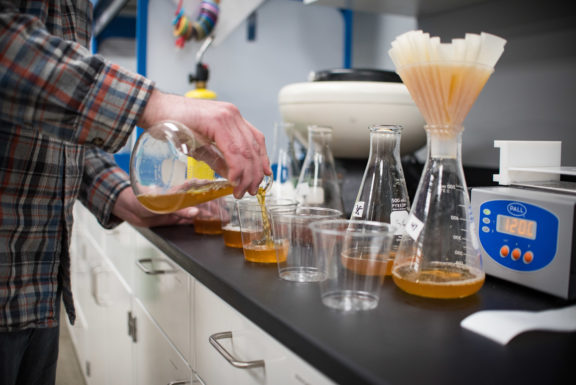 "The easiest quality check of all is tasting, taste the product before it leaves the building," said Jim, now Rhinegeist's Chief Science Officer. "A non-brewer often takes for granted the possible variation in a given product."
Guarding against variations in taste is especially critical for Truth. Far and away Rhinegeist's most popular product — it has 133,000 more "check-ins" on Untappd than the brewery's second-most checked-in beer — Truth pints and cans are consumed hundreds of times per day across six states, producing a diverse army of taste testers, all with different palates and the same expectation: that Truth tastes like Truth. At such a high volume of consumption, the smallest deviation in taste could have seismic repercussions.
This stark reality prompted the formation of the Trusted Tasters™, a collection of 25 vetted Rhinegeist employees from various departments who have mastered the art of detecting inconsistencies in our beers, namely our flagship IPA. In the last year, the group has sampled 270 batches of Truth, with an average of 15 samples tasted per batch — that's 4,050 samples total.
"The Trusted Tasters™ have all gone through formal sensory training that included off-flavor identification, then passed an evaluation created by myself," said Travis. "There is a window open daily during which the tasters can come to the sensory lab and use forms I've built to evaluate that day's packaged beer. Since the beer is tasted by myself and another lab member prior to packaging, the Trusted Tasters serve as a final quality check before the beer leaves the building. "
Although crucial to the quality control equation, tasting remains subjective, leaving room for more scientifically sound measures. Jim, drawing from his time as a chemist at Eli Lilly and from his stints as a quality manager at other breweries, insisted from Day 1 that Rhinegeist invest in a top-flight lab setup. Bob and Bryant, understanding how crucial consistency was, especially for a new business building its reputation on first impressions, obliged.
"A delayed beer is forgiven, a bad beer is not."
"When I got here and saw the lab that was built, I knew that these guys got it, and they got it early," said Matt Steinke, Director of Sales. "This brewery was three and they were doing things that 20-year-old breweries weren't doing. One of the things when I first came here that blew my hair back was to see the consistency every time I was in Cincinnati. When I had a Truth I was like, 'Yep, that's Truth.' That wasn't happening at a lot of 20,000 BBL breweries, beer tasted different every time you drank it — high levels of oxidation, infections, notes of diacetyl."
"At the last brewery I worked at, I had a microscope and a hemocytometer," said Microbiologist and Brewer Austin Zanella, laughing. "The resources here are phenomenal…they help ensure that you're going to make a high-quality product every time."
One instrument, the Gene Disc, is particularly impressive. Each time a tank is filled, the machine runs a polymerase chain reaction (PCR), pulling a DNA sample from the beer's yeast strain and determining if any spoilage organisms are present.
"The analogy I like to use is that it's the same technology that determines paternity," said Jim.
With so many checks in place, quality control can, at times, feel tedious. When a beer is held up in the lab, a chain reaction occurs, tweaking sales timelines, altering marketing initiatives, and shifting production schedules. Ask any Rhinegeist employee, however, and they'll say it's always worth the wait.
"A delayed beer is forgiven, a bad beer is not," said Austin.
Conclusion
Today, Truth is omnipresent. You can snag a six pack, twelve pack or draft pour at nearly 10,000 locations in Ohio, plus another 4,200 spots across Rhinegeist's other markets. Truth koozies, LED signs, tin tackers, tap handles, T-shirts and other odds and ends are seemingly everywhere, their owners members of an IPA swag secret society of sorts. It would seem that Truth is no longer just a beer.
However, when you ask people what it is that makes Truth such a force, they emphasize that the opposite is true: it is just a beer, and that's what makes it so special. Consistent, flavorful, unique, no frills, hoppy deliciousness. In an increasingly noisy craft beer marketplace, Truth's simplicity is what it allows it to stand out.
On the back of each Truth can, the words of our co-founder Bryant capture this sentiment, popping in sharp, white font.
"Rare are the moments of truth, when you've struck the last match, belting out tunes with your friends, staring deep into the campfire-times when you feel infinite."
That infinite feeling, that feeling of comfort, of satisfaction, of pure, unadulterated yes-ness is Truth's ethos. It can be your day-to-day, your once-in-a-while, your go-to, or your party favor — whatever it means to you, know that that's meaningful to us.
The world didn't need another IPA, but we're sure glad we made this one. Ain't that the Truth.